Wunderkids
Deluxe Folder (Ex. Silion)
CAD $299
Scroll to the top of the page and select your currency.
Introducing the new version of the previously known Silion mat, with the same features as the original but now available in new neutral & solid colors.
Silicon-Coated Vegan Leather - Additional Silicon layer is coated on the Color Folder, for enhanced safety, as well as a slightly more grippy feel and premium look. 
Imagine your baby happily wriggling around on Deluxe Folder mat! Made with premium vegan leather, your little one will love how soft it is on their delicate skin.
---
S size (200 x 120 cm) mat also fits our Babyroom perfectly. But there will be 2 leftover panels. 
Read this blog post to see how S size mat fits SG size Babyroom.
Made in Korea
1 Product = 🌳🌳🌳 Planted

---
At Wunderkids, we care about keeping your baby safe. That's why our mats are fully non-toxic. Even the most curious babies can lick the mat and still be safe!
---
Our mats are made with parents in mind too. With a foldable design, you can easily set it up and store it away. Its neutral colours will perfectly match your beautiful home!
---
Silicon Coating
Additional Silicone layer is coated on the original Wunderkids Color Folder mat PU leather.
* Silicones are commonly known as safe and non-toxic to humans and the environment. They do not react with food or produce any hazardous fumes even when exposed to higher temperatures. They are broadly used in medical products, cooking utensils, and more.
Non-slip Benefit
Silicone is naturally adhesive and the added silicone layer prevents the mat from easily sliding and slipping around.
Buttery soft cover
The only playmat cover that is made from *FDA compliant (food contact grade) material. The premium polyurethane leather is also ultra-soft, non-toxic, and hypoallergenic.
*FDA 21 CFR §175.300, Resinous and Polymeric Coatings. No chloroform residue was found after 24 hours of exposure to 120°F solvent.
9 layers of premium foam
Multiple layers of high-density foam reduce pressure on wrists and ankles when your little ones are practicing their gross motor skills. Unique egg-box-shaped layers create lots of air pockets to absorb shock and maximize comfort.
Comes pre-steam washed 3 times
Ultra-thick at 4cm (average play mats are only 1cm thick)
Folding design makes setup and storage a breeze.
Water and stain-resistant cover is easy to clean
Highly durable, our mat will last for years.
OUR MAT
CARPET
FOAM MAT
(TILED/
ROLLED UP)
Eco-label
certified
Non-Toxic
Recycleable
material
FDA food
contact
grade material
Hypo
allergenic
Water
resistant
Machine
washable
Durability
Thickness
4 cm
<1 cm
1 cm
Support for
crawling
Anti-slip
Specifications
---
Product
Size

S size:

Open: 200 x 120 x 4cm
Folded: 120 x 50 x 16cm

 

SG size:

Open: 240 x 140 x 4cm
Folded: 140 x 60 x 16cm

Product
Weight
6 kg (S size), 8 kg (SG size)
Country
of Origin
South Korea
Material
Inner: High Density Polyethylene
Outer: Polyurethane Leather
Safety Certifications
---
FDA
Approved under 21CFR175.300
(indicating the playmat surface is safe for
food-contact)

ECO Label
Certified
Sustainable and environmentally
preferable throughout the product
life cycle
LOHAS
Certified
LOHAS (Lifestyles of Health and
Sustainability)
SGS Test
Result 
Independent 3rd party lab test

Customer Reviews
08/15/2022
Stephy

Canada
Best playmat
At first I wasn't sure if it was worth the money, but after unboxing and using, it is definitely something worth investing. I love that there are absolutely no odors or weird smells to the mat. Safety is a top priority for us, so this mat is definitely perfect in that sense. Only thing I find is that it is a bit of a struggle to take the cover off and put it back on. I feel like I probably scraped some foam off in the process (there's nothing covering the foam). But knowing there's no toxic materials, I am not too worried and because of the sturdy material, the overall mat and cover did not get damaged. Very good quality!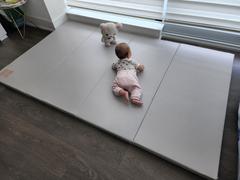 04/27/2022
Stephen H.

Canada
Worth the investment!
We had ordered the Deluxe Folder, as it had fit our small living space better. At the time we ordered, we knew the Babyroom didn't fit the Deluxe Folder but didn't mind. We absolutely love the mat especially for floor time. However, later on as our baby got older and we thought about when they would start moving on their own, we regretted not having the option of adding the Babyroom. However, upon further review of the gate sizes listed, I realized the gates might fit perfectly in the Deluxe Folder. We ended up getting a Babyroom set as a gift and were able to test our theory. Luckily it worked out! We ended up loving the mats so much we even bought one more we leave at the apartment of our baby's grandparents so that there is a comfortable and safe space for everyone to play!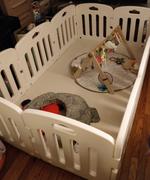 We're so confident you'll love Wunderkids' products that we'll give you 30 days to let your baby try it out! 
If questions arise, please feel free to let us know. We, co-founders (Kate & Matt) will personally answer all your questions. We'd love to chat with you!